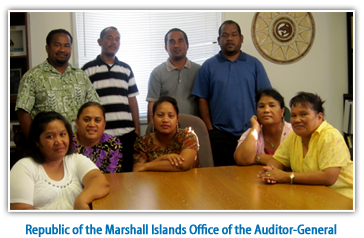 Yokwe! It is my sincere pleasure, on behalf of the members of the Association of Pacific Islands Public Auditors, to welcome you to apipa2011.org. The Republic of the Marshall Islands' Office of the Auditor-General is pleased to host this year's APIPA Conference in Majuro July 4-8, 2011, at the International Convention Center (ICC) in Delap village, next to the RMI capitol compound.
Like previous conferences, this year's conference will provide a variety of audit, finance, and grants management courses throughout the week for our participating auditors, accountants, finance and grants managers from across the islands. Five instructors will be delivering training at this year's conference, two of whom are making their first visit to Majuro. APIPA welcomes back Jeanne Yamamura, Charles Hester and Ralph Capio to the APIPA conference. Yamamura, Hester and Capio's courses have always been well received and we are pleased they are able to join us again this year. APIPA also welcomes first-time instructors James Blume and Elizabeth "Betsy" Cohn. Mr. Blume has a distinguished career in Government Auditing. With 36 years of professional experience in performance auditing, Mr. Blume has worked with the U.S. Government Accountability Office and received numerous awards, including two Meritorious Service Awards. Ms. Cohn has been a training consultant since 1983, working extensively with federal, state, and local governments to improve their audit reports. Ms. Cohn has also provided consultancy services to U.S. GAO and the Graduate School, included course design and development. With first-class instructors and a wide range of financial and auditing courses planned, I have no doubt that each participant will find great value in their time in Majuro, and will return home equipped and ready to contribute more to their respective organizations.
APIPA will host an evening reception Monday, July 4th, 2011, and we invite all participants to join us. Finally, I would like to convey our most sincere appreciation to the United States Department of Interior's Office of Insular Affairs and the Graduate School's Pacific Islands Training Initiative, for their continued support of APIPA and our annual conferences.
I invite you to explore the resources on this website and encourage you to join us in Majuro for the 22nd Annual APIPA Conference.